About Me
Are you looking for a warm and genuine celebrant?  Want a relaxed and flexible approach to your ceremony?
My name is Kitty and I am based in Ringwood East – nice and close to the Yarra Valley, Melbourne surrounds and the Mornington Peninsula.  I am mum to two crazy kids, have a very large cat called George, some chickens and fish.
So how did I become a celebrant?  Once upon a time I was a Forensic Scientist (so a little bit of a geek).  I wanted to use my creative talents and my love of public speaking to do something completely different.  After attending a family wedding and seeing the celebrant in action I thought 'I could so do that'.  I got trained and certified and now, nearly ten years later, I have been able to be part of so many different weddings and really do love it.  Any two people should be able to marry each other and I hope that one day soon that will be a reality (totally LGBT friendly!).
I am not into the fluffy and soppy ceremonies (although I can't promise that there won't be any tears!).  I like to craft each of my ceremonies specifically for my couples allowing you to have complete control over what is said.  I am a warm and friendly person, not too over the top, and you can relax and know that your ceremony will be delivered in the way you want it to be.
So if you think I am the celebrant for you, come and have a chat, meet George and tell me your plans.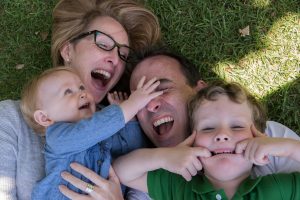 My Services
As a celebrant I provide a personalised service and make sure your ceremony is just about you.  I believe there is no right or wrong way to have a ceremony – just your way.
I believe I can offer a relaxed, flexible and modern approach to your ceremony, to make it exactly how you want it to be.
Want fun and laughter?  You've got it!
Want simple and classy?  We can do it!
Just the legal bits?  Not a problem!
Have a special person you would like to officiate?  I can help!
As a Mum of two I am super organised so you won't have to worry about timeframes and deadlines, leave all of that to me.  I can include a rehearsal so you can be comfortable with the setup on the day and the running of the ceremony.
So how does it work?  You come and have a chat, see if you like me and book me as your celebrant.  I take care of all the legal paperwork (for which I will need to see your birth certificates and ID) and I give you a resource pack to help guide you with how you might want your ceremony to flow.  You will have access to me as much as you want via face to face, email, phone or skype.  I am here to help you at all stages of your ceremony preparation.
Weddings
As your celebrant…I will provide a personalised ceremony focused entirely on you!! I ensure a relaxed and stress-free approach to your ceremony.
Your ceremony will be created to reflect who you are as a couple and only include what you want it to (other than the legal bits of course!).
I will guide you through all aspects of your ceremony, from the legal requirements, to the selection of readings or poems to the many available rituals that will help to make the ceremony into something you really want.
It's totally flexible and you have complete control at all times.
Love Ceremony
Some couples are not able to be married legally, but still want to show everyone how much they love each other, and have the big party that goes with it!
A love ceremony can be just as traditional as a wedding ceremony, or as casual and relaxed as you want.
Naming Ceremony
Welcome your child into the world and to your friends and family by having a naming ceremony!
Have you adopted and want to show how special that child is to your family? A naming ceremony is a special way of formalising a name change.
The ceremonies can be performed in conjunction with wedding ceremonies where special vows can be written when two families are blended to become one.
Renewal of Vows
Do you have a big wedding anniversary approaching and looking for a special way to celebrate and show that you still love that special person in your life? Why not renew your vows!
Did you get married away from your family and friends and would like to have a ceremony that involves them? Why not renew your vows!

Gallery

Testimonials
Vishal and I just wanted to say a huge thank you for being such a wonderful celebrant and wonderful mentor on our very special day!
We hope you enjoyed the ceremony just as much as we did! It was soooo beautiful, relaxed, elegant and loving! Wish we could do it all over again!!!
Will definitely be recommending you to all our friends yet to be married!
Vishal and Alessia
I think Katherine was awesome. She was very calm, relaxed, friendly. She has a lovely smile that puts people at ease. I was very stressed given I had to organize my wedding in under 6 weeks but she put my partner and I at ease. Everyone at the wedding was commenting on how great she was. She let us script it all ourselves. She has different levels of packages she can offer which I think is a great service. I thought she was very affordable, extremely professional and possibly one of the best parts of our wedding. Our service ran to time in about 20 minutes. Everyone said it was one of the best ceremonies they had gone to . So thank you Katherine for making it a lovely experience.
Kevin and Nags
Katherine was amazing! She organized everything we needed from Melbourne while we were in Sydney by email and face time. Customized our service to our crazy zany wants… Thanks so much!
Nathan and Amanda
Katherine was our wedding celebrant in April and did a perfect job. Her relaxed and easy going attitude right from the moment she invited us into her home to meet for the first time. She personalised our wedding ceremony to suit us and worked with us up to the day. Katherine quickly replied to any communication and answered and discuss any questions we had. Her reassurance and that it is ok to be nervous and her clam attitude really helped. Even on the wedding day she met me (the bride) before walking down the aisle just to see how I was going, which I found was very supportive. Katherine is very professional, supportive of any couple and understands that every ceremony is different. I highly recommend her to do anyones wedding.
Thank you for making our day so great!
Peter and Kerrie

Also Seen On….

Lets Get In Touch